Sad news when the pink unicorns that rocked Worlds every day are now forced to find a new destination. The Unicorn of Love League of Legends team decided to part ways with all five members who just attended Worlds 2021 and rebuild it from scratch.
Recently, the German League of Legends team – Unicorns of Love has made a surprise announcement about parting with the 5-member squad that has just attended Worlds 2021.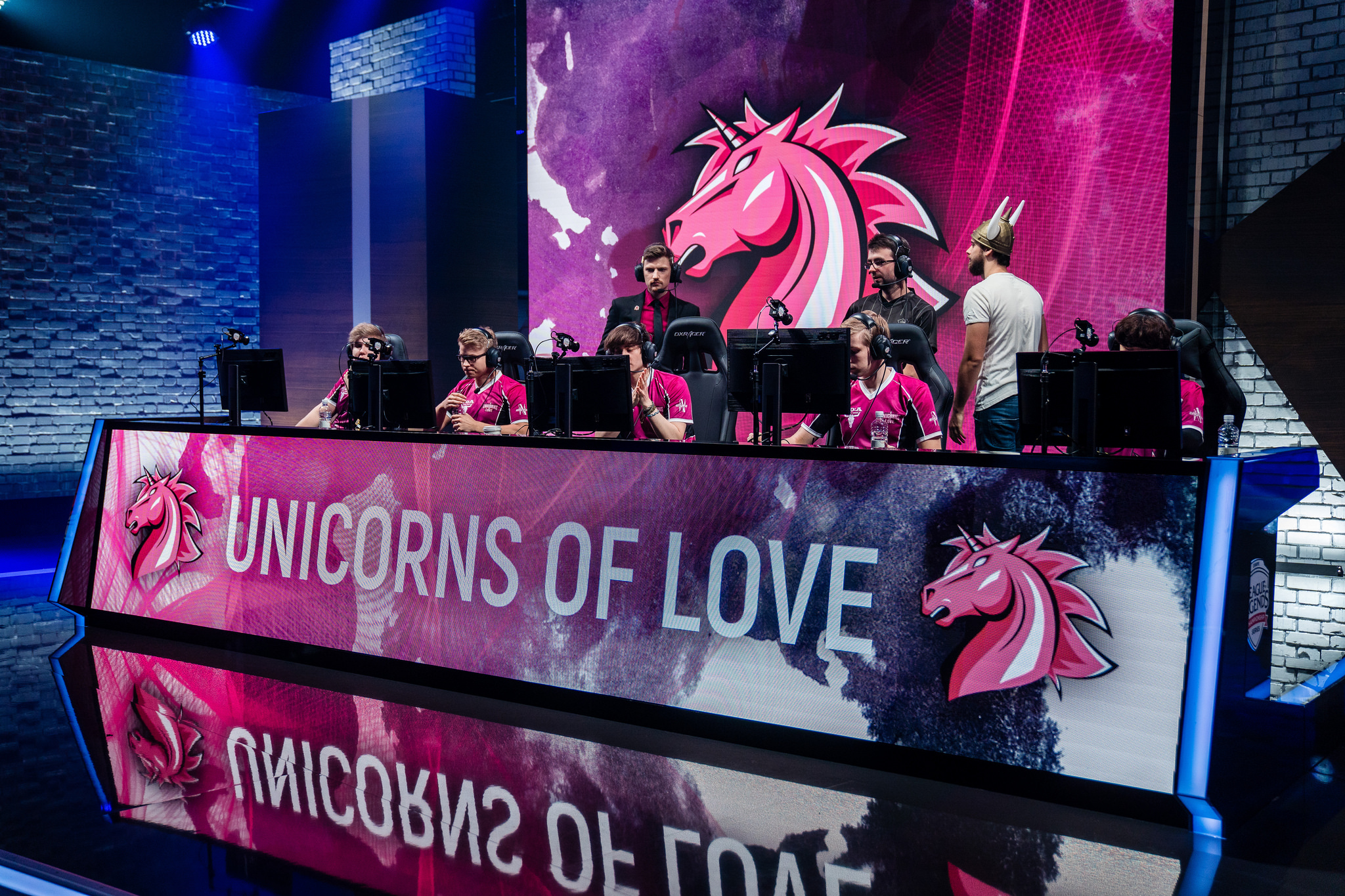 After a disappointing performance at this year's Worlds, esports organization Unicorn of Love has decided to disband its entire League of Legends roster, meaning that UOL players will now have to find their own new home. It marks a new beginning for these players, especially with 4 out of 5 members who have been with pink for two years. The newest member of the team is AD carry Argonavt, who joined the team at the end of this season. But the guy will still have to stand up and find another place for himself for the upcoming 2022 season.
Announcement
"Today, with mutual consent, we would like to say goodbye to players SaNTaS, Argonavt, AHaHaCiK, Nomanz, as well as BOSS.
We agree with the fact that players need to improve. We've won the LCL for three years, and now it's time to take it to the next level, to test ourselves in European tournaments at the EU Masters and LEC.
Therefore, Unicorns of Love will release contracts for all players. They will become free agents and are open to invitations from any organization outside of the CIS region.
A big thank you to all the boys. Together we have built a strong organization with the most titles in the CIS. We have also represented the region at international tournaments in Reykjavik, Shanghai, and Berlin.
Unicorns of Love will still be here. And goal remains the same, which is to win every tournament and go further in international events. Please look forward to the announcement of a new roster; it will be time for us to write our history in the LCL."
Performance
This past year, Unicorns of Love dominated its region with its 5th consecutive LCL win. They hold the regional championship trophy convincingly but have never proved their strength in the international arena. In this year's Worlds, the unicorns were yet to win a single game. They were knocked out by "Beyond Gaming" in a match where they made too many mistakes.
In the warm-up round of Worlds 2021, UOL had a pretty bad performance with four consecutive defeats and ranked last in Group B.
However, in the last match against Cloud9, UOL unexpectedly successfully kicked the representative from North America and forced them to rematch with Japan in a disadvantageous tie break.
As a result, C9 lost the ticket to go straight to the Main Event group stage, then had placed in group A of death with DK, Rogue, and FPX waiting.
This historic knockoff gave UOL fans some consolation. But failure is still a failure, and the fact that all members want to find a new destination to develop themselves in the future is understandable.
Official information about the new lineup of Unicorns of Love will be monitored and updated to you as soon as possible!