Fortnite has really been going all out with its cameos and reference-based characters which has left a lot of people wondering just who the next playable character skin will be of.
Recently however, a trustworthy leak happened at Epic Games, in which it was said that Marvel Comics themselves have started discussing a potential collaboration between them and Fortnite by literally bringing in Spider-man to the game.
According to the leakers, this update was titled as "WestSausage" in the files, which may not seem like a direct reference to Spider-man just yet but remember, Epic doesn't really like spoilers all that much so it makes sense why they'd go for something so inconspicuous.
Despite this however, the online communities have already settled on the fact that this codename might very well be meant to represent WebSlinger all along, and considering the swinging mechanics that this entails, it could all very well be an indicator of the fact that we'll soon be seeing Spider-man in Fortnite.
HYPEX himself was the one to first bring this up to the community, and in case you don't know, HYPEX is one of the most trustworthy figures in the Fortnite scene.
While not the most credible sources out there, so far HYPEX has been very accurate as far as predicting future updates and crossovers in the Fortnite community so you can already see why so many people have been excited as soon as they saw him post about it on his Twitter account.
Since the swinging mechanic is so proficient in the update, many have argued that this update might very well be released right after the new movie, No Way Home, is released. This would mean that the skin would be available around December 2021, unless the movie gets delayed for any reason whatsoever.
We already know that Epic Games love to do collabs with Marvel Comic Studios, since they've already had an Avengers: Infinity War special event in the past and we even saw the game pop up multiple times over in the actual MCU lore.
For example, we all remember the iconic Thor Fortnite scene in which he's aptly enjoying the game and getting destroyed by other players online. We wonder what his reaction would be to finding out that Spiderman gets his very own update while Thor stays in the background being wrecked by noobmaster69.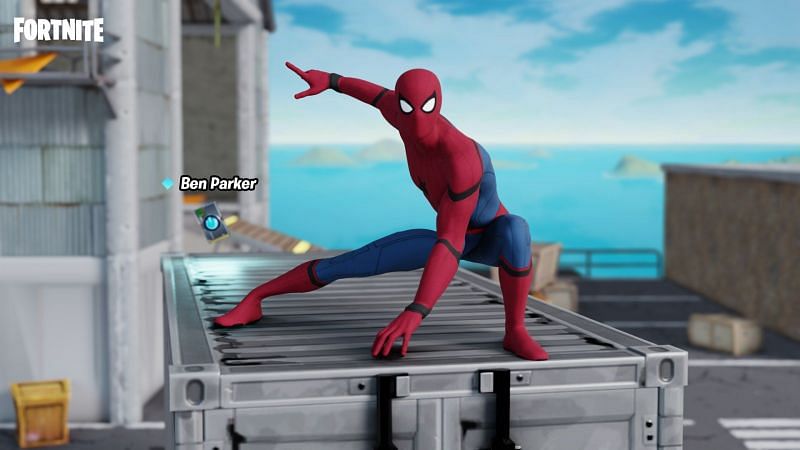 We all knew that Spider-man would eventually make it in the Fortnite scene, but we never thought that he'd have his very own update planned out.
Many have also stated that as time moves on we could potentially see the whole roster in Fortnite, an idea that would definitely delight both the people from Epic, Marvel and the fans of both series.
We definitely hope that this will turn out to be true because honestly, who wouldn't want to see everyone's favorite web slinger in Fortnite? We can't wait to see what else happens after Season 8 is up and done.