In case you didn't know by now, Fortnite released a new update recently known as the Fortnitemares 2021 during which they set out to celebrate Halloween at its finest by giving us a ton of exclusive items.
Whether we're talking about Witch Brooms, Consumable Candy or the brand-new Convergence map, Epic really set out to give the players the time of their life with this new update.
But what many online players have been the most excited about was definitely the new Ghostbusters questline which was made as a celebration of the newest film in the series, Ghostbusters: Afterlife.
The interesting part about it is that if you don't pay enough attention to the clues, you can actually end up missing out on this questline altogether. So, how can you make sure that you're not left out? Simple, you just find and interact with the Containment Specialist NPC.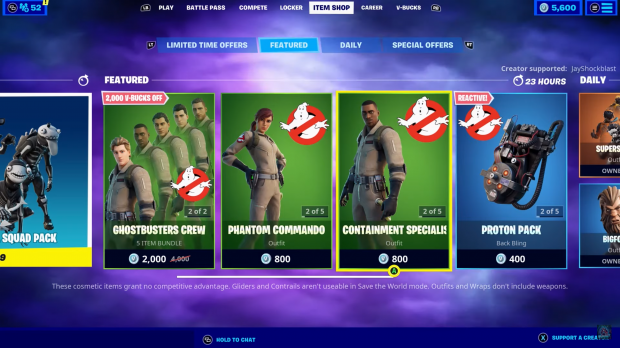 But, where can you find him? You just have to look for him under a tarp in the Camp Cod garage. The NPC actually moves around a bit on the map so you'll have to look for him for a while but once you get him you are set to complete the following challenges and if you do so you will unlock the back bling in the process.
Step 1: Put 3 Seismographs in the Misty Meadows or in the Catty Corner
As the title implies, you need to go to one of those two areas and deploy two seismographs for the questline to officially start. Just make sure that you don't forget to hold the action key on the blue silhouette, otherwise this won't count.
Step 2: Kill Three Mini-Pufts with a Pickaxe
You will find these mini-pufts around the Lazy Lake, the Retail Row or the Sludgy Swamp. Just go there and look around for a while and you should be able to find a miniature version of the Stay Puft Marshmallow Man.
Step 3: Collect Five Mechanical Parts
In order to do this all that you'll need to do is you'll need to find five random cars and destroy them, collecting their mechanical parts in the process. You can destroy them with either the weapon you sport or the pickaxe, it's all up to you.
Step 4: Spray Ghostbusters Signs
The only real problem with this questline is the fact that it will be quite hard for you to spray three ghostbusters' signs without getting taken out by a sniper. Because of this we recommend going to Pleasant Park because that's where the fewest players will be landing. But, just in case you want more of a challenge you can also spray them in Holly Hedges or even Dirty Docks.
Step 5: Plant a Ghost Trap
For this step you can just go to Pleasant Park and drop the ghost trap there. After the trap activates you can hold the action button over it and just like that, you've got the job done. Now you should successfully own the Ghostbusters "No Ghost" holographic back bling.