The long-awaited video game Battlefield 2042 keeps expectations to the limit with each announcement, and this time they confirmed the date for the Open Beta.
Electronic Arts announced that the date for the Beta of this FPS would be October 8 and 9, 2021. It is worth mentioning that those who make the pre-ordered of the game will be able to access this instance on the 6th of the same month.
Read also: How to bet on Call of Duty
According to what EA explained, this mode will include a test of the Conquest mode and the Orbital map with a space rocket. In addition, there will be the possibility of choosing between four specialists to jump into battle.
The Battlefield 2042 Open Beta will be available for PlayStation consoles, which will not require a PS Plus subscription. It will also be on the Xbox, which, in this case, will need an Xbox Live Gold account.
In addition, it will also arrive for PC, and they shared the minimum and recommended requirements to play the title on this platform.
Battlefield 2042 Gameplay
With Battlefield 2042, you return to modern warfare, a bit along the lines of Battlefield 4. But much more futuristic and with a level of destruction that will change the game, leaving that "Levolution" of the fourth chapter in diapers.
The best example I have is in that tornado that devastates all the players in its path; or in those structures whose explosions will cause more chaos than ever. EA was not lying when saying weeks ago that you are facing an "epic scale" or "total military war," knowing everything that will bring you in this installment. There will be more vehicles of all kinds, both by land, sea, or air, between tanks, fighter jets, or hovercrafts. You'll even have a robotic dog, a grappling hook, and a wingsuit. Due to lack of mobility, it will not be, of course.
In turn, it is surprising to know that it will be a Battlefield focused on online games without a solo campaign. The first confirmed game modes were Total War and Danger Zone, the first being an evolution of the classic Advancement and Conquest. The second will focus more on the squads with a different touch to what is seen in the franchise. The third, which was said at the time that it will be "a love letter to Battlefield fans" and that it will not be a Battle Royale like Firestorm, will finally be the surprising Portal mode, with unparalleled customization.
In more detail, you can see a brushstroke of each of the seven maps that will be available at the launch of Battlefield 2042 on October 22.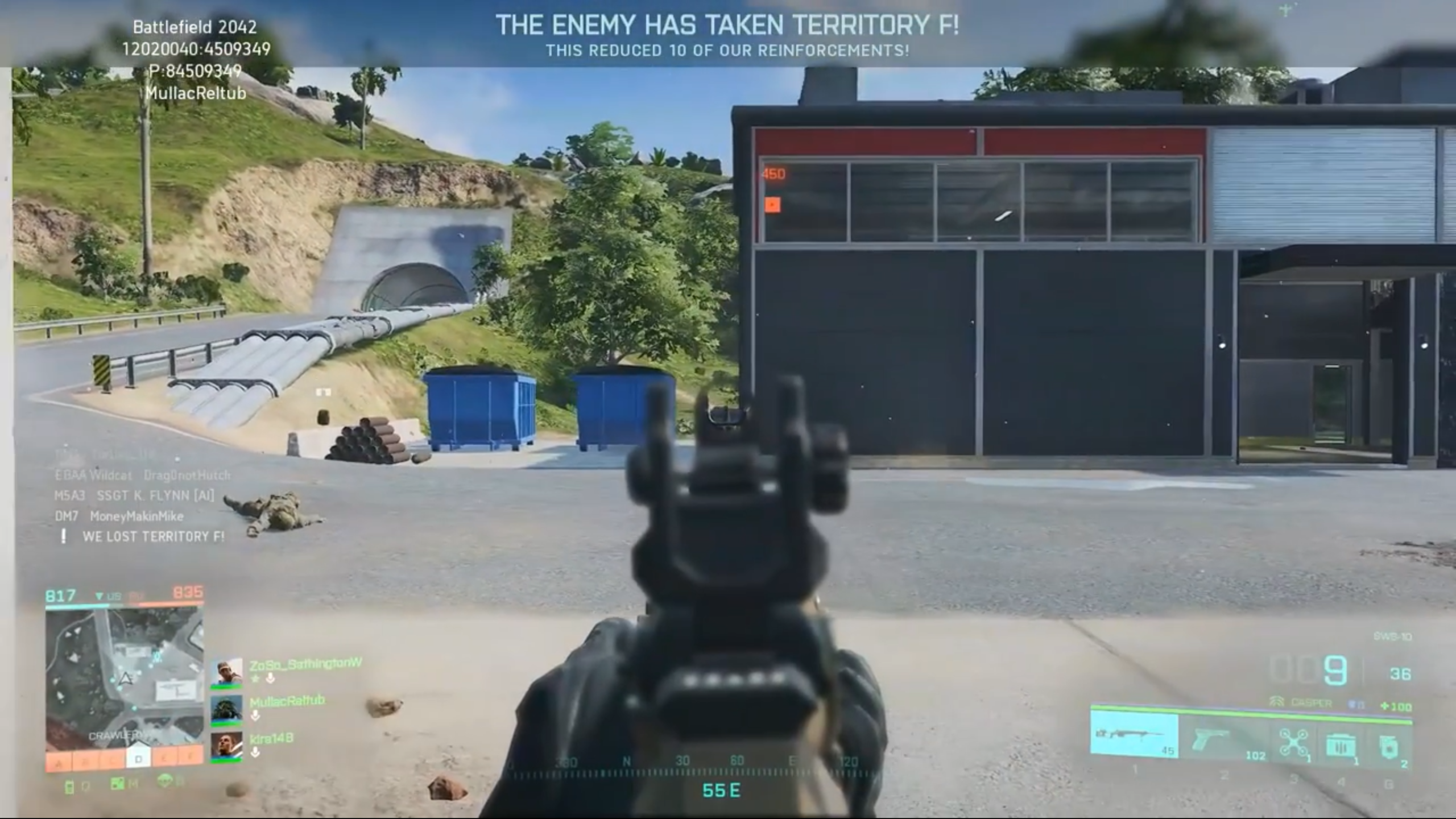 Battlefield 2042 Maps
Orbital (Kourou, French Guinea)
Of Orbital, that rocket about to launch into space and that you have seen explode in the kinematics stands out especially. There will be no lack of storms in this dynamic map. So players won't be the only enemies in Kourou.
Hourglass (Doha, Qatar)
Those sandstorms as in the unforgettable Spec Ops, The Line, will be one of the main problems in this desert landscape. It contrasts with those skyscrapers in the background.
Kaleidoscope (Songdo, South Korea)
Kaleidoscope is one of the most vertical and colorful maps. Here it will be a joy to use the air-suit to go from one skyscraper to another as if nothing else. Or use airplanes or helicopters, of course. Nothing prevents you from being on a perfect Battlefield.
Manifest (Brani Island, Singapore)
Tropical storms spice up this map with a labyrinthine design because of so much industrial contention in this port area in Singapore.
Discarded (Alang, India)
On this coast of India, you will see several colossal size boats stranded. And there will be no time to recover from such a breathtaking view, as there will be deadly storms.
Breakaway (Queen Maud Land, Arctic)
The Arctic offers one of the most extreme climates as it is completely frozen. Of course, there will be fuel tanks and silos to explode, creating permanent hot spots literally.
Renewal (Deserts of Eastern Egypt)
Renewal is a giant wall within an agricultural area. It is just what you will encounter in this big map where not everything will be as calm as it seems, as there are also extreme conditions throughout any of the games.